Why I Know I Have Prophetic Dreams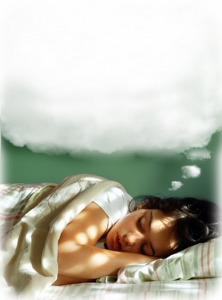 The first time I remember having a prophetic dream, I was nine years old. I dreamed I saw my grandma lying on a bed and looking as if something was dreadully wrong with her. This was so shocking to me, I woke up immediately and started crying and telling my mom about the scary dream. My mom comorted me and told me that everything was all right. My grandma was in very good health and it was just a dream.
A few months later, my grandma and grandpa left California to go on a trip to see their daughter, (my aunt), who lived in Las Vegas, who was in chronic pain from severe arthritis and they wanted to visit her. I remember my elder brother and I taking Grandma and Grandpa to the train station and even getting on the train for a moment to say goodbye. I really wanted to go with them, and Grandma wished she could take me along, but that had not been arranged, so I couldn't go.
Unfortunately, that was the last time I saw my grandma while she was still herself.
When My First Dream/Vision Came True…
Within days, our family received the news…While still on their trip, Grandma had suffered a severe stroke. This is what happened…
She and Grandpa had attended church with my aunt, and during the church service found out that a member's child had died and the funeral service would soon be taking place. My compassionate grandma, feeling very sad about this tragic news, decided so she could show support for the bereaved family. Unfortunately, and this has never been clear to me, there was a hole around the gravesite which was covered up, and my grandma, not expecting such a hole to exist, stepped into it which put her into sudden shock, resulting in a massive stroke.
As soon as we could, our family got into the car and drove to Las Vegas to visit Grandma in the hospital. Unfortunately, the hospital had visiting rules that clearly were not fair. Children were not allowed to visit patients at any time. I was so disappointed, I cried and cried. I desperately wanted to see Grandma. I loved her so much. She and my mom were the two people I loved most in this world, and one of them was in trouble, and I wasn't allowed to even see her, let alone try to help.
Fortunately, there was one small circumstance that allowed me to at least get a glimpse. My grandma's room was on the first floor, and I discovered there was a ledge that I could climb onto to see her. It was difficylt getting up there, and I had to crane my neck in order to see anything, but I was able to see her, and what I saw shocked me to the core…It was the dream! The vision of her lying there in the hospital bed was exactly the same picture I had seen of her in my dream several months earlier. That dream was prophetic.
My grandmother never recovered. After a few weeks, we managed to transport her to a nursing home in Lynwood, California, which was fairly close to where my mom and I lived. After that, my mom and I visited Grandma every single day. We never missed a day. We talked to Grandma and brushed her hair, and did everything we could to try to bring her back. But she couldn't speak and she didn't seem to understand words at all. She wasn't the same. It was like she was already gone, but we kept trying on a regular basis.
Eventually, after a few months, we got a call in the middle of the night letting us know Grandma had reached a crisis. Immediately, we left the house and drove to visit Grandma. We stayed with her, talked with her, tried to bring her back and cried. Early the next morning, while we were still there, Grandma quietly passed away. We loved her so much. Losing her was so hard – especially for my mom and I. She meant so much to us.
Reasons for Prophetic Dreams
So that's how I found out I have dreams/visions that come true. Since then, I've had many prophetic dreams and another time, I'll write more of my stories on the topic.
In closing, I will share something I know…that in some cases, prophetic dreams will come true no matter what you do, and in some cases they serve as warnings so changes can be made and tragedy can be averted.
Blessings,
ZARA ANGEL
An Angel Reading and Spiritual Counseling session can help you answer some of your deepest life questions, and 
help you make the right choices that will bring you joy and happiness, no matter what is going on around you.
If you would like to discover if you are an Incarnated Angel, what your purpose is, how to accomplish your "angel work", or for guidance for a happier more meaningful life, please Contact Me or call me at 425.741.9752