What Would You Like To Ask Your Guardian Angel?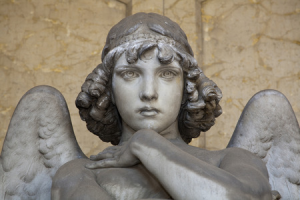 "The wisdom of the ages teaches that each individual, whether a believer or not, good or bad, old or young, sick or well, rich or poor, has a personal Guardian Angel with him or her at every moment of life's journey."
It is wonderful to know that you have a Guardian Angel, and it is even more wonderful to know that you actually have the ability to contact your Guardian Angel in order to get some of the comfort and insight you need.
If you could contact your Guardian Angel…
What kind of questions would you ask of him or her?
Would you want to know your Angel's name?
Would you want to know if he or she has been with you since the beginning of your life?
Would you want to know if he or she has been with you in past lives?
If you have pain or illness, would you want to ask if you can be healed?
If a friend or family member has passed away, would you want to know how they're doing in Heaven, and if they have a message for you?
If you're in need of emotional healing, would you simply want to commune with your Guardian Angel in order to bask in the healing energy of your Guardian Angel's presence?
Sounds nice, doesn't it?
But how can you actually commune with your Guardian Angel?
First, I want to say that some people spontaneously experience signs and miracles from their Guardian Angels, after which they know that their Guardian Angel exists.  With this knowledge, they tend to feel lighter and brighter and more hopeful about their lives.
One woman, I'll call Karen, experienced her Guardian Angel just after her father had died earlier that day.  Deeply distraught, she went to bed, and as she slipped under the covers, she suddenly became aware of someone sitting on the foot of the bed.  She looked down, and was astonished to see an Angel of Light – her Guardian Angel.  Her Guardian Angel then communed with her telepathically.  The message was of comfort and joy in discovering that her father had passed into a good place and that he was in Heaven with the Angels.  The ironic thing about this is that Karen had never given much thought to Angels before.  Yet here she was, in the presence of an Angel that she could actually see.  It was amazing, and in fact, changed Karen's life for the better.
But how can you commune with your Guardian Angel if such a spontaneous Angelic appearance does not occur?
There are two ways I know of to bring in the presence of your Guardian Angel.  One way is through meditation, and the other is through guided visualization.
~ The way to bring in the presence of your Guardian Angel through meditation requires daily practice and perseverance.  Once you learn a worthy method of meditation, (which I teach in individual sessions), you can practice this regularly.  This will spiritualize your life in many ways – including making your Guardian Angel and other Angels of Light accessible to your understanding.
~ The other method is through guided visualization.  This method, (which I guide people through in my webinars about Guardian Angels), is relatively easy, and tends to bring about a quicker response.  Through guided visualization, you can go into a nice deep state in order to witness and sometimes actually see and hear your Guardian Angel.  Then, in that nice deep trance-state, you are able to ask your Guardian Angel a question that you have previously chosen. In doing so, you may very well get an answer, as well as a great deal of energetic healing -which is wonderful!
As mentioned earlier, I use this method in my free Webinars, and you can check my Webinar schedule to sign yourself up in order to attend the next Guardian Angel webinar.  First, sign up for my free newsletter on my website, and then you're eligible to sign up for my Webinars–absolutely FREE!
Previous Webinars entitled, "Your Guardian Angel and You", were fantastic! Tons of people signed up, and the feedback I received from them was phenomenal. In class, I gave the attendees a greater defining understanding of good angels, what Guardian Angels are, and how many Guardian Angels people have. We discussed the huge numbers of people throughout the world who believe in angels and Guardian Angels. Also…We did three visualizations in which the participants actually got to meet their Guardian Angel!
It was wonderful !
Here's a review from a previous Guardian Angel Webinar:
"Best experience everrrr! Im still shaking by how powerful and surreal it all was! Everyone join the next one yay!"  – Sarah Lockerby
You probably already know that you wouldn't still be here on earth if it weren't for the diligent love and protection of your Guardian Angel. Soon you will actually be able to commune with him or her!
ZARA ANGEL