Angel's Advice – Take Charge of Your Health
With the Angels' assistance, I've been on a major campaign to improve my health, and since it seems to be working, I want to share some of what I've learned with you. My intention is to inspire you to make changes in your lifestyle and improve your health.
Nobody cares about you like you do, so you don't want to give away the responsibility of taking care of your health.  It's important to take responsibility for yourself.
Some people think the only thing they need to do in order to be healthy is to visit their doctor, but doctors, these days, are at best troubleshooters.  They try to help you with problems you've developed, but if you really want to be healthy and have vitality, you've got to be proactive.
In America, we like quick fixes and easy how-to methods, so in that spirit, I'm sharing some simple ideas you can use to improve your health and vitality.
The first health tip…
Is to eat more salads. According to Dr. Joel Fuhrman, author of the helpful and informative book Eat to Live, the best foods to improve your strength and health are green leafy vegetables.  According to him, and the information I receive from the Angels as well, the best way to regain your strength and vigor is to eat big green leafy salads every day, and to make salads your main course.  He also recommends eating cooked greens such as kale, spinach, and collard greens.
Other foods Dr. Fuhrman recommends are beans and mushrooms.  He recommends up to a maximum of one cup of grains a day, and to keep oils and refined sugars to the absolute minimum.  So, if you add more large green salads and beans and mushrooms to your diet, and include some cooked greens as well, your skin will improve.  Your health and vitality will improve, and you'll feel better!
The second health tip…
Endorsed by the Angels (according to my receiving) I'd like to offer involves exercise.  We all know we need exercise daily, but not everyone is following through. One of my favorite methods of exercise is jumping on my Urban Rebounder trampoline.  I recommend that brand, because it's especially springy and works really well.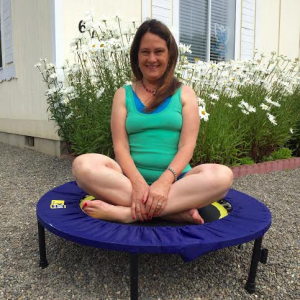 If you have a good rebounder, you can use it just 10 minutes a day, and get excellent results. Through jumping on it for just 10 minutes daily, you're actually able to work all the muscles of your body, and an extra very important bonus is that you shake up your lymphatic system.
The lymphatic system is the vacuum cleaner of the body, and a sluggish one can equal trouble. The lymphatic system is a network of tissues and organs that help rid the body of toxins, waste and other unwanted materials. Its primary function of is to transport lymph, a fluid containing infection-fighting white blood cells, throughout the body. Shaking up the lymphatic system helps the immune system to work properly, but shaking up the lymphatic system is difficult in any other way besides jumping on a trampoline.  Even for people who are disabled or in a wheelchair, using the Urban Rebounder is do-able.  You can sit on it and bounce on it.  Or you can get someone else to bounce on it while you sit.  Either way, your lymphatic system is still shaken, and you still get good results.
The third health tip for taking charge of your health…
Involves your emotions and the spiritual side of your nature – the mind-body connection.  Ways to improve this aspect of your health, also endorsed by the Angels,  can involve:
Finding a good hypnotist who can help to reprogram your mind in the way you want to feel and to think.
Another way would be to find a good Spiritual Counselor who can help you to understand things from your past, and help your present and future to be more of what you really want.
And/or, you could try finding a good CD with a  guided visualization that helps you to feel good and change your perspective on things you've previously been upset about.
So again, these are simple things you can do, which the Angels and I believe will make big changes in your health, and in this way, help your life to be more of what you really want it to be.